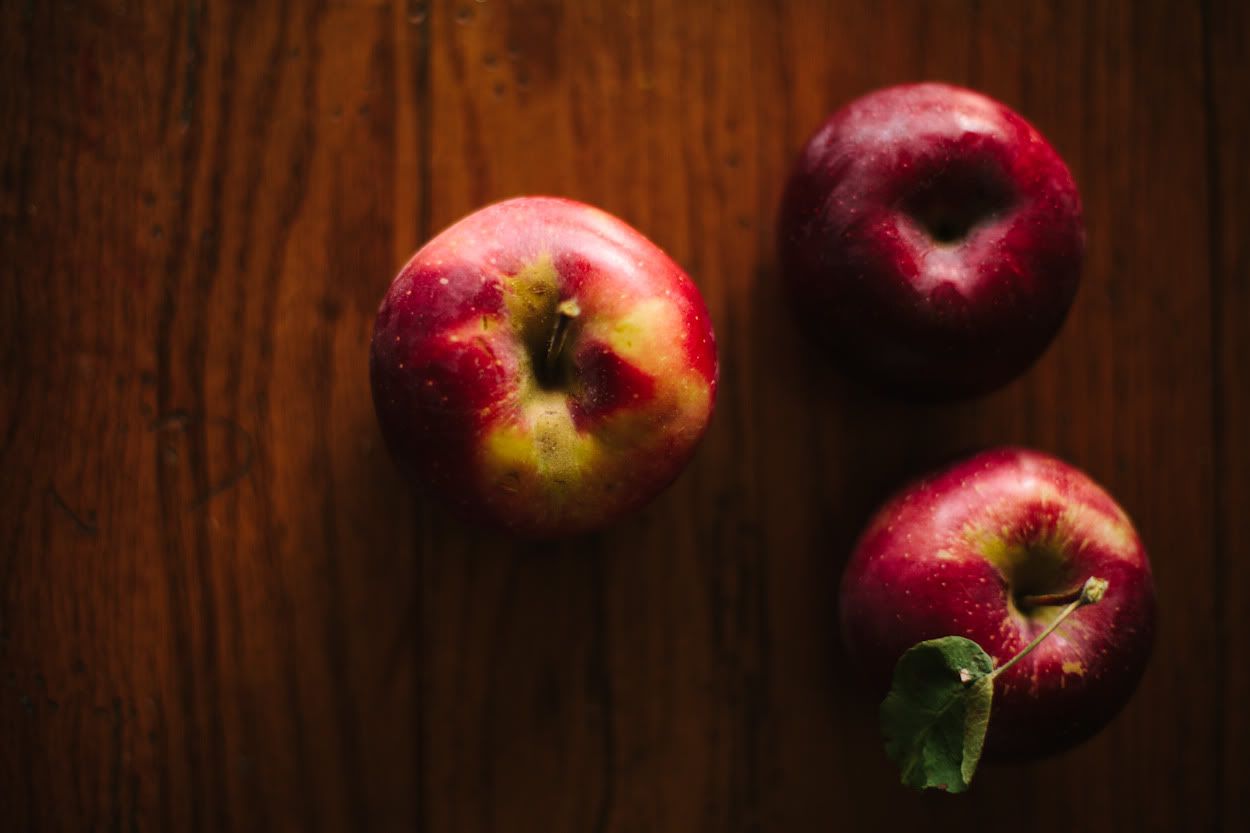 I wrote a little about our
apple picking days
last week, but I will never be able to completely explain the depth and heart behind such a simple tradition. Sometimes, no matter how you try, words cannot completely encapsulate all that you want to say. It's hard to explain how much it means to me. I will never be able to totally describe the feeling of walking to the backyard on frosty, crackly grass, paper bags in hand and oftentimes mittens on fingers, to pull apple after apples off the trees. Or how when we mash them, the smell is thick in the air like cider and leaves the scent on your fingers, in your hair, pressed into the folds of your clothes. Slicing apples until your fingers are prunes, the taste of the first dried apple, tart and sweet and crackly while still soft, adding a dash of extra cinnamon to a bowl of applesauce before settling down, still sticky, to eat it. The comfort and wonder and wholesome taste of food that you've made with your own hands, picked from your own land.
It's a wonderful thing.
Today, I'm sharing a simple recipe. Sometimes people say things are simple, when they are really marvelously complex and stating their simplicity just sounds good. When I say this recipe is simple, I truly mean it. It's humble and easily adaptable and hearty -- simple fare, comfort food. Food tastes so much better when it's homemade and from the heart, no matter how cliche that sounds. This is one of those recipes. It's easy to make and goes wonderfully paired with a steaming cup of chai or freshly brewed coffee. There's a comfort in baking it, slicing and coring the apples, stuffing with brown sugar and walnuts, and finally, scooping up bites of the steaming, crackly, sweet, and all around wonderful, fall-ish food. We went through a whole bag of apples we picked one Saturday making dozens of these baked apples and I hope you enjoy them as much as we did. :)
Happy Friday, sweet friends!
Baked Apples
Ingredients
Apples
Walnuts
Brown Sugar
Butter
Cinnamon
Directions
Wash and core the apples, making sure to hollow out the top so that it's wider. Mix brown sugar with a little cinnamon and stuff the apples generously. Top with walnuts, stuff in more brown sugar, and slather with a little butter. Put in the oven at 350 for about an hour, take out, and enjoy with a cup of tea and a windy day. Feel free to have seconds.