The days have slipped into cold winds, crisp air, and fall foliage filling the air. I love watching the transition from the steamy summer months to the invigorating weeks of autumn. There's something special about this season -- with the winds wild and world glorious in hue. Along with the transitions outside, there's absolutely cozy transitions happening inside. We've been wearing woolen sweaters and cozy socks, board games have been pulled out, and our dinners have shifted from fresh garden fare, to hearty soups, stews, and freshly-baked treats.
Every year, as Autumn rolls around, we eagerly await the arrival of the delicious pumpkin bars. My mom has been making these for as long as I can remember. I can see her standing in the kitchen, smoothing the frosting over the bars in the long tray. She'd sprinkle walnuts on top and slice them into thick wedges that were just heaven to bite into. The sweetness from the bars isn't just from the sugar. The memories baked into every tray make fall a little better than it already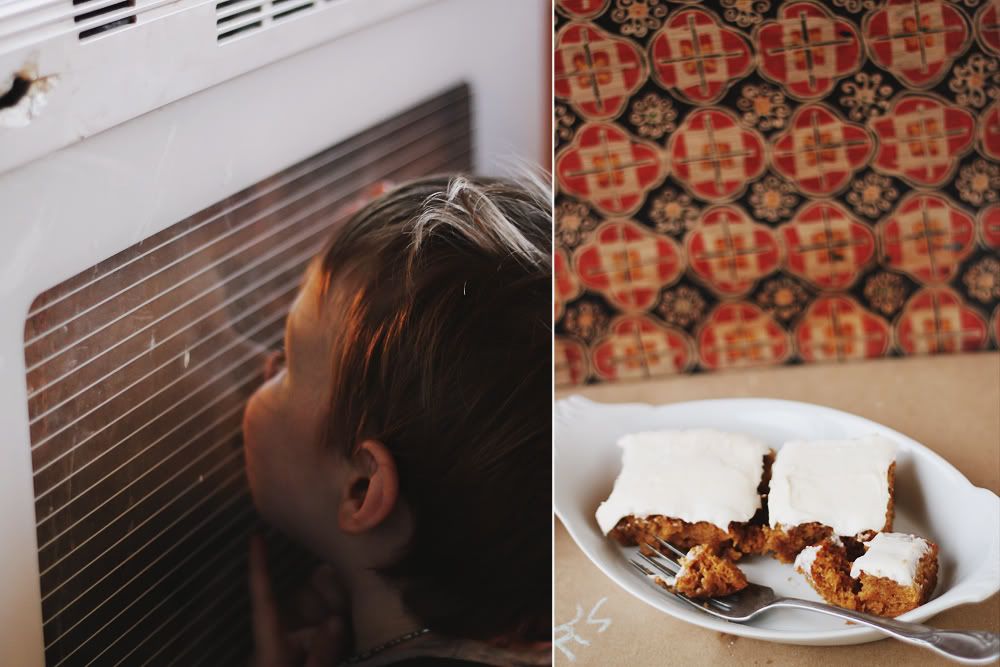 The recipe is stuffed in a huge folder of my mom's, jam-packed full of clippings and photocopies of recipes from books and magazines, while hand-written directions are scattered among the various sheets. This was my first time attempting the treats, and I daresay they turned out delicious. We were out of walnuts and went without this time, but the little sprinkling on top adds a crunch that is the perfect finish to an already perfect dessert.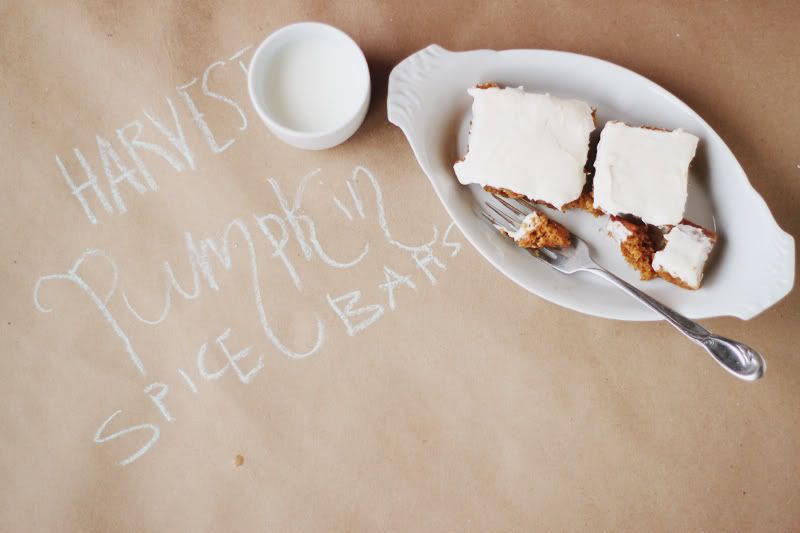 Harvest Pumpkin Spice Bars
Adapted from a Betty Crocker recipe
Ingredients
The Bars
4 eggs
1/2 teaspoon ground ginger
1/4 teaspoon ground cloves
1/2 cup chopped walnuts
2 cups sugar
1 cup vegetable oil
1 can (15 ounces) pumpkin (not pumpkin pie mix)
2 cups flour (we used gluten free flour)
2 teaspoons baking powder
2 teaspoons ground cinnamon
1 teaspoon baking soda
1/2 teaspoon salt
The Frosting
1 package of cream cheese, softened
1/3 cup butter, softened
1 teaspoon vanilla
2-3 cups powdered sugar (sweeten to taste)
Directions
Heat oven to 350 degrees. Grease the bottom and sides of a jelly roll pan. Beat the eggs, sugar, oil, and pumpkin in a large bowl until smooth. Stir in the flour, baking powder, cinnamon, baking soda, salt, ginger, and cloves. Spread the batter in the pan and smooth. Bake in the oven for 25-30 minutes, or until light brown. Let cool completely for one hour. While cooling, make the frosting by mixing the cream cheese, butter, and vanilla. Gradually beat the powdered sugar in until smooth. Frost the pumpkin bars, sprinkle with walnuts, and cut into 7x7 rows. Enjoy!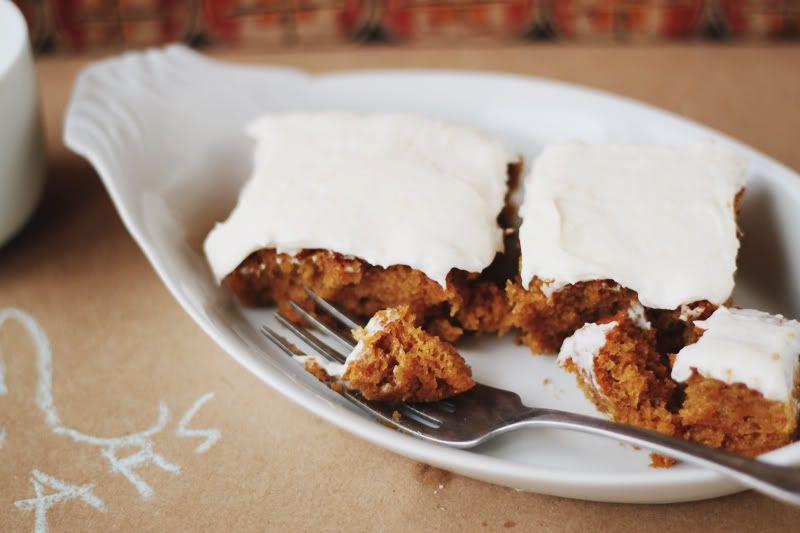 Based on how you cut them, there should be about 30-49 servings. Refrigerate any leftovers if you have any. We usually end up eating most of the treat the first day, and the remainder serves as a delicious breakfast the next. Oops. Yes, I mean it. Don't laugh at me! We're not so good about the whole breakfast-for-breakfast thing, as evident by our love for sweets.
It's a tasty way to start your day...and I'm planning on including this
homemade pumpkin spice latte
into my morning as well. What can I say? I love fall and the changes that come along with it...
especially
food wise. And what better way to celebrate the first (official) day of Autumn than some oh-so-yummy-pumpkiny treats?
Have a favorite fall treat? Please share! I think I might be on an Autumn cooking kick.